"Ciao! C'e' Papa Benedetto..."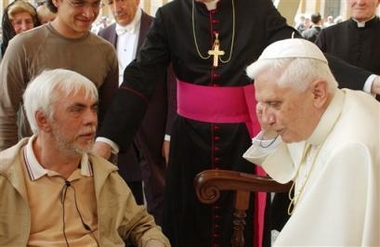 (PHOTO: AP)
Hello? Hello?
Proof that B16 is not your father's pope.
To the surprise of aides, Benedict XVI spoke on a mobile telephone with a terminally ill patient, at the request of another patient who was attending an outdoor papal audience.

At the end of today's general audience in St. Peter's Square, a handicapped man in a wheelchair asked the Pope to speak on a mobile phone with a terminally ill nun.

Seated on his chair, the Holy Father was happy to acquiesce, and offered
words of encouragement to the religious over the phone.

Photographers reacted quickly to capture on film what might have been the first public conversation of a Pope on a cellphone.
A humbler, heartfelt papacy. Good stuff.
-30-