"I Feel Pretty, Oh So Pretty...."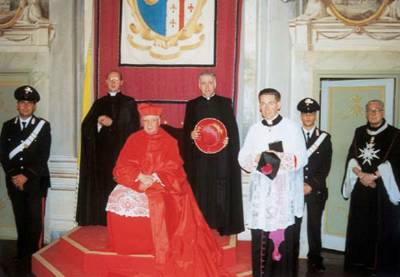 (PHOTO: Institute of Christ the Sovereign Priest)
A correspondent just wrote with the following note: "Don't throw away your grandmother's old lace tablecloths. It appears they have a a redeemed role in liturgical drag...."
Anyone getting all kinds of apocalyptic about the need for "more masculine priests" (as if bringing in the Village People will solve all problems?) needs to take a good look at this picture and think for a minute. This is not the most macho-looking menangerie I've seen in this business, Fr. Mason.
Before we go incandescent about anklets, people, remember at least that they're not worn supposedly in the name of God. And, for the millionth time, there was no lace to be found at the first Mass... so why mess with a good thing?
Say what you will about his sartorial style, but at least Jesus was in touch with the people.
-30-